August 2012 | Volume 3, Issue #10
Silky Cauliflower Soup
Late summer is not just a good time to make soup, it's quite possibly the ideal time. With ultra-ripe vegetables and abundant herbs, you're pretty much set. Here at the bustling kitchens of Fresh Off the Press (and if you believe that, we heard there is a nice bridge for sale in Brooklyn), puréed veggie soups are a big hit. They are simple to prepare and you really can't mess them up. Sometimes, we like to roast the vegetables first. Other times, we boil them until softened in a pot of broth. If you are not a huge fan of cauliflower, this soup may convert you.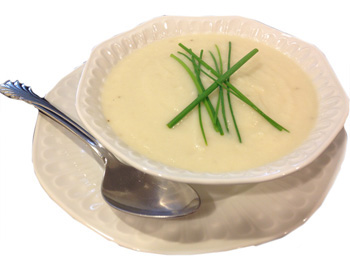 Ingredients
1 head cauliflower
2 Tbsp. extra-virgin olive oil
1 small onion, chopped
2 cloves garlic, minced
1 quart low-sodium chicken stock
1/2 cup finely grated Parmesan (optional)
Salt and freshly ground black pepper
3 Tbsp. finely sliced fresh chives
Directions
Remove the leaves and thick core from the cauliflower, coarsely chop, and reserve. Heat the olive oil in a large saucepan or soup pot over medium heat and add the onion and garlic. Cook until softened, but not browned, about 5 minutes. Add the cauliflower and stock and bring to a boil. Reduce the heat to a simmer, cover, and cook until the cauliflower is very soft and falling apart, about 15 minutes. Remove from heat and, using a hand-held immersion blender, purée the soup, or purée in small batches in a blender* and return it to the pot. Add the Parmesan and stir until smooth. Season to taste with salt and black pepper. Keep warm until ready to serve.
*Be careful if you have a glass blender jar. The really hot soup could crack the glass. Allow the soup to cool a little before pouring into a blender.