September 2012 | Volume 3, Issue #11
Hatch Chile and Bacon Quiche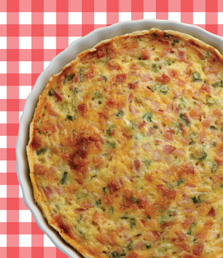 Throughout September, the aroma of roasting green chiles begins to fill the air, especially in the parking lots at selected Sprouts stores. The infamous Hatch chile peppers hail from the tiny town of Hatch, New Mexico, where a combination of hot days and cool nights produces the tongue-stinging, capsaicin-packed chile peppers. Its flavor is a unique blend of sweetness and spicy heat with a touch of smokiness from the roasting required to remove the skin. Hatch chiles vary in heat from mild to extra hot and add a nice kick to savory recipes. They can be frozen for up to a year, so you can stock up and spread their use until the next year's harvest.
Ingredients
1 refrigerated pie crust, softened at room temperature
8 bacon strips, cooked and crumbled
1 cup Monterey jack cheese, shredded
1 cup cheddar cheese, shredded
1/2 cup Hatch chiles, roasted, peeled and chopped
4 green onions, chopped
1 1/4 cup half-and-half
4 eggs
pinch of salt and pepper
Directions
Preheat oven to 425°F.
Unfold pie crust and repair any tears with wet fingertips. Press crust into 9-inch deep dish plate. Bake 5 minutes, or until golden brown. Remove from oven and reduce temperature to 400°F.
Cook bacon in large skillet over medium-high heat until brown and crispy, then pat dry with paper towels. Crumble bacon.
Sprinkle bacon, Hatch chiles and green onions over crust.
Combine Monterey jack and cheddar cheese and sprinkle over bacon, chiles and onions.
Beat together half-and-half, eggs, salt and pepper in medium bowl. Once mixed, pour mixture into crust.
Bake quiche for 45 minutes, or until knife inserted into center comes out clean.
Let quiche stand for 5 minutes. Cut into wedges and serve.