April 2011 | Volume 2, Issue #6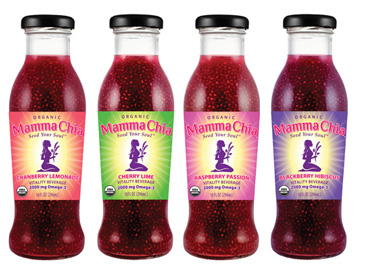 Bodacious Beverage
Years ago, Janie Hoffman, founder of Mamma Chia, began a quest to find a diet to help her overcome an autoimmune disease. Janie fell in love with the magic of chia, a tiny seed used by both the Mayans and Aztecs for its amazing energy and natural healing powers. She found it so energizing and loved it so much that, before long, friends were hard pressed to find anything edible in her house that wasn't laden with chia. Everyone liked her chia drink best, and so the idea of Mamma Chia was born.
Chia seeds are the richest plant source of Omega-3s, containing even more than salmon. Evidence suggests chia seeds may help reduce high blood pressure, lower cholesterol and control blood sugar. They have also been shown to aid in weight loss by reducing food cravings, and because they can absorb more than 10 times their weight in water to make you feel fuller faster. Some people say that a spoonful of chia seeds in the morning keeps them feeling energized all day long.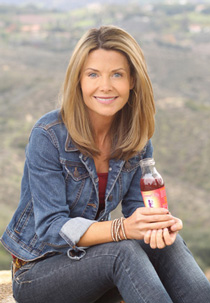 Janie Hoffman
With all those benefits and many more, it's no wonder Hoffman was hooked. In the summer of 2009, inspired by her love of chia seeds, Janie brought her idea to life and founded Mamma Chia, the world's first organic, chia-based food and beverage company.
"Mamma Chia is delicious and fun for your mouth," the energetic Hoffman gushed during a recent phone call. And she's right! Beautifully bloomed organic chia seeds are suspended in a blend of refreshing fruit juices, giving Mamma Chia a unique and refreshing texture that differentiates it from all other beverages. While our office tasters were skeptical of Mamma Chia at first, wrinkled noses quickly turned into smiles of approval and the consensus was, "Wow, that's really good!"
Best of all, every bottle contains 2,000mg of Omega-3s, 10 grams of balanced fiber, 33 milligrams of calcium, four grams of complete protein, and more antioxidants than blueberries.
Get in on the fun and try Mamma Chia today. It's available in four fruit flavors: Cherry Lime, Blackberry Hibiscus, Raspberry Passion and Cranberry Lemonade.
You can find Mamma Chia in the refrigerated dairy case.