April 2011 | Volume 2, Issue #6
re: Reuse, Reduce, Recycle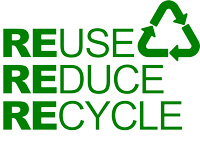 In a now-famous speech delivered in 2005, Walmart CEO Lee Scott laid out an ambitious blueprint for the retail behemoth to become a leader in environmental responsibility. Scott pledged to increase the efficiency of Walmart's truck fleet, to reduce greenhouse gases and store energy use significantly, and to cut solid waste at US stores by 25% in three years. The company even opened a store in Texas that was heated with used cooking and motor oil.
Not all of Scott's goals have been met (and Scott himself has been "recycled" into a new career), but it's hard to take issue with the overall goal of "reuse, reduce, recycle" that underpinned his plan.
REUSE
It isn't just plastic being wasted. Every year in the United States, we plow through more than two billion books, 350 million magazines, and 24 billion newspapers. The average American office worker also uses 10,000 sheets of copy paper. Digitization is helping, as more and more of us turn to computers and wireless mobile devices to receive and convey information; but of course, that comes with its own set of environmental issues, including the elements like silicon, mercury, nickel and cadmium used to make the screens and batteries, as well as the fossil fuels needed to power the electricity that runs the computers and servers on which the Internet runs.
If you have lots of books and magazines piling up, consider extending their lives by dropping them off at your local hospital emergency room, doctor's office waiting room, or nursing home lobby. The newspaper also works well for cleaning windows and mirrors. (You can also help the environment by using eco-friendly cleaners. Check out this feature from the March edition of Fresh Off the Press for some safe, chemical-free cleaning ideas)
There are many other easy ways to get in on the "reuse" bandwagon. For example, you can buy and sell through Craigslist and eBay; and barter or give away salvageable but unwanted home goods through Freecycle or TriBarter. You can find an especially good list of reuse ideas online at a website called re-nest.com, including "6 ways to use an old cutlery tray," "10 ways to reuse plastic plant pots" and "10 ways to repurpose lightbulbs" — that is, if you still have incandescent bulbs.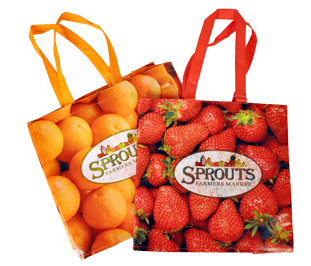 Of course, one of the easiest forms of reuse is the grocery bag. Bring in your own plastic, paper or other type of bag, and Sprouts will give you a credit of 5 cents for each one. The most durable of these are the reusable bags we sell, and we now have two kinds: the traditional green ones, made of woven polyethylene, which are $.99 each; and the new, larger, somewhat more stylish and durable laminated ones (with orange or strawberry designs), which are $1.39 each.
You might also want to consider utilizing mesh produce bags, instead of the free plastic ones in the stores. There are several places where you can buy these online, including EcoBags.com.
REDUCE
The premise here is that product reuse and recycling efforts aren't even necessary if you never create the product in the first place.
PepsiCo Inc. recently made headlines when they unveiled a bottle made entirely out of natural plant material, including switch grass, pine bark and corn husks. No petrochemicals are used. When test marketed next year, these new bottles will be 100 percent recyclable and biodegradable. (Traditional plastic bottles take 1,000 years to start to degrade.) The new bottles apparently look and feel like plastic, and protect the product inside equally well.
Coca-Cola is also in the game. Coke currently produces a bottle made of 30% plant-based materials, but one of their subsidiaries, Sprouts customer favorite Honest Tea, is helping push the company in some novel directions, too. In 2009, Honest Tea began using an eco-friendly plastic bottle called the Escape™, which is 6.5 grams lighter than the PET (polyethylene terephthalate) bottles previously used by the company. The 20% lighter package takes fewer resources to make and transport.
Not surprisingly, there are other packaging innovations going on throughout the natural foods industry.
Seventh Generation
Seventh Generation, a leader in providing eco-friendly cleaning products, debuted its revolutionary new laundry detergent bottles at a recent industry tradeshow. The bottles are made from 100% recycled cardboard and newspaper, and reduce the use of plastic to just a thin inside lining, spout and cap. That's 66% less plastic than a standard 100 oz. detergent bottle. The company plans to use the cardboard waste generated by the tradeshow to produce 200,000-300,000 bottles. The new packaging is expected to hit shelves in the coming months.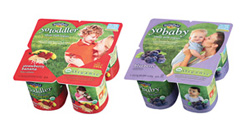 Stonyfield Yogurt
For more than 20 years, Stonyfield has been working to reduce their carbon footprint. Years ago, they switched to foil lids and began using lighter cups, but their most recent achievement came in October, 2010 when they began using 93% plant-based plastic for all their multipack yogurt cups, including YoBaby and YoKids, becoming the world's first dairy company to use plant-based plastic packaging.
Tom's of Maine
Earlier this year, Tom's of Maine introduced a new plastic laminate tube to replace the iconic aluminum tube for their toothpaste. A switch to plastic might not seem particularly eco-friendly, but the new tubes are much lighter than the old ones, which saves energy during manufacturing and shipping. And as with their aluminum tubes, Tom's of Maine will take used laminate tubes returned to them and recycle them.
Sprouts
We have made significant strides in reducing energy consumption in our stores through the use of skylights, "smart" electric lighting that shuts down office lights when no one is inside, and more efficient refrigeration and freezing systems. Indeed, nine of our stores have won certification from the EPA's "Green Chill" program. Our new store in Westlake Village, CA, opening on May 18, will be Green Chill-certified at the Platinum level — one of the only retail stores in the country to receive that distinction.
What You Can Do
Consider adding a filter to your home faucet so you can reduce your use of plastic water bottles. You can buy refillable water bottles at Sprouts instead. And if you like to drink carbonated beverages, consider buying a carbonated water maker from a company like SodaStream. Plastic soda bottles are recyclable, but the more you can reduce your demand for the bottles, the fewer fossil fuels will be wasted in their production in the first place.
RECYCLE
One of the most innovative recycling programs in the country was launched a couple of years ago by RecycleBank, a company that holds strong to the belief that the world is at its best when none of its elements goes to waste.
RecycleBank partners with city governments and waste haulers to reward citizens for their recycling efforts. In participating communities, recycling carts and pick-up trucks are outfitted with special devices that weigh and track the individual or community's total recyclables for the week. The weight is then translated into points that can be redeemed for rewards — in effect, a frequent flyer program for recyclers. The more you recycle, the more points you earn; and you can then trade those points for rewards and coupons, including coupons at Sprouts. (Those who live in a community program area earn points based on the neighborhood's total recycling for the week and receive points based on an equal percentage of the total neighborhood recycling weight.)

The RecycleBank home recycling program is available only in participating communities. Currently, this includes at least portions of Glendale, Mesa, Phoenix and Scottsdale, AZ; Los Angeles, CA; Boulder, CO; and Plano, TX. You can find out if your neighborhood participates by registering online at RecycleBank.com. If your community is not currently participating in the home recycling program, simply let your government officials or waste hauler know you want to be rewarded for your recycling efforts. Sign-up at RecycleBank for sample letters to help get you started.