October 2010 | Issue #12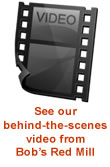 With Laughter and Inspiration,
Bob's Red Mill Grinds It Out
If you grew up in an older part of the United States, you probably grew up somewhere near a grist mill. Maybe it was a museum, or a converted restaurant, or just a vestigial relic like a street name, an "Old Mill Road," whose roots and meaning were long ago forgotten. But the odds are, your town was once a mill town.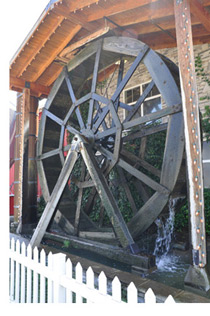 From its earliest days, the American landscape was dotted with water-powered grain mills, much as Europe had been (the famous Domesday Book, a comprehensive survey of England completed in 1086 by William the Conqueror, revealed that there were precisely 5,624 water-powered flour mills there, or one for every 300 inhabitants). Today, despite all the urban sprawl, there are hundreds of grist mills still standing in the US, their paddle wheels propelled gently forward by stream or river, generating motion and emotion toward an era that is no more.
The simple technology of turning one stone against another to grind grains into flour actually dates back to ancient times — and the breads that were made with those flours were an important dietary component of just about every civilization on record. "I think it's pretty much as old as people," says Bob Moore, the white-bearded 81-year-old founder of Bob's Red Mill and one of the only people still producing stone-ground flour. "And it's been pretty necessary to keep us alive from one generation to the next."
True. But in this country — birthplace of the Industrial Revolution and the Digital Age, we are obsessed with mechanization, maximization and efficiency. So generations ago, the quaint old stone mills were replaced by gargantuan metal rolling mills, capable of converting hundreds of acres of wheat or corn into flour or meal in just minutes. Cadwallader Washburn, one of the founders of General Mills, began replacing millstones with corrugated iron rollers as early as 1878. Pillsbury developed a steam-powered roller mill that by 1884 was cranking out 5,000 barrels of flour a day, or about 980,000 pounds. Modern inventions like air flow dynamics and turbo grinders have continually increased the capacities of the large mills.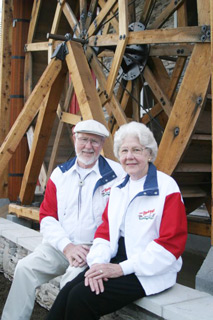 Bob and Charlee Moore
Moore is fascinated by the history of old mills. His office is littered with mill photographs, books, and ads. He created a museum of mill equipment inside his sprawling 325,000-square-foot plant in Milwaukie, OR, seven miles south of Portland. He is a charter member of SPOOM, the Society for the Preservation Of Old Mills. And, when he discovered a company in Denmark that manufactures old-style millstones, he was on a plane within 30 days. "When we got there, my wife thought I had died and gone to heaven," he says with one of the hearty, self-deprecating, slightly amazed-sounding laughs that spill out of him every few minutes. "Stones everywhere."
But Bob hasn't always had his nose to the grindstone. His obsession began modestly enough, when he and his wife, Charlee, were raising three boys on a 5-acre farm in California with some chickens and dairy goats. They were part of 4-H. Began reading Rodale's new healthy lifestyle magazine, Prevention, and soon Charlee decided she would try to get them to start eating better. So they began getting away from white sugar and processed white flour, and turning instead to fresh baked breads made with whole grains, hot cereals in the morning, and other more nutritionally sound foods.
"These days, so many times, the ladies over in our store tell me they can't get their husbands to eat anything but white bread. But I didn't go through that. For some reason, I didn't fight it. And it was really a wonderful way to live."
The real catalyst for change, though, was a book that Bob stumbled across in the library, years later. John Goffe's Mill, published in 1950, told the story of a man who inherited an old water-powered flour mill in Bedford, NH, and, knowing nothing about it at first, gradually restored it and began producing whole wheat flour and cornmeal and selling them locally. The seed had been planted.
This was sometime around 1968 or 1969, long before one could rely on the elegant algorithms of Google to bring obscure research data to the fingertips. So Bob went back to the library and began poring through the multi-volume Book of American Manufacturers, in search of companies that might be able to help him duplicate John Goffe's feat.
"I sent about 10 letters to companies that I thought might be able to shed some light on things. I didn't even get an answer back from most of them, because I asked if they knew where there were some stone mills and things like that. One or two sent a note back that they hadn't done anything like that for 125 years."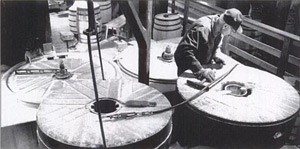 Dewey Sheets
But he did get one promising response, from someone who told him about a man in his late 80s named Dewey Sheets, an expert in "dressing" (cutting grooves in) old millstones, who was then working on the restoration of the Metamora Mill in Indiana. Bob got in touch with Dewey, and before long Dewey was able to secure two 1850s-vintage millstones and other old wooden mill equipment from Fayetteville, NC, for Bob to play with. The stones weighed more than one ton each, and cost $1,500 to ship across the country.
The equipment sat in Bob's garage in Redding, CA, for about two years, while he researched the milling process and corresponded about the crazy project with his two older boys, Ken and Bob, who were serving in the armed forces. But in 1972, they brought the old Fayetteville equipment back to life, and opened Moore's Flour Mill in an old 2,400-square-foot Quonset hut they had rented.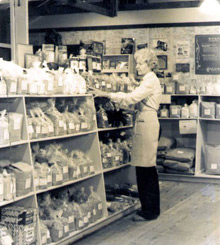 Charlee
"Honestly," Bob says, shaking his head in wonderment, "from the moment we opened the door in the little town of Redding, it was amazing. It was so unusual. We put ads in the paper — 'Come get your fresh stone-ground flour, cornmeal, and 10-grain cereal.' Customers would come by and say, 'I have the best cornbread recipe in the world, made with your cornmeal.' And we began to live and breathe this business."
They had a good run in Redding, but it was a small town that really wasn't capable of generating enough business to support the three families that were running it. Besides, by 1978, as Bob was approaching his 50th birthday, he had other plans in mind. He and Charlee sold the business to their boys (who still run it to this day), and moved to Oregon to attend seminary.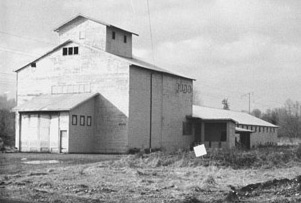 The Abandoned Martin Brothers Mill,
soon to be Bob's Red Mill
As fate would have it, though, shortly after they settled in Portland, they noticed an abandoned building on a rail line in nearby Oak Lodge — a building with a telltale shape. It was the old Martin Brothers Mill, which had been shut down in 1957. They couldn't help themselves. Bob and Charlee leased the building, painted it bright red, contacted Dewey Sheets to get some old millstones ("Dear old Dewey!" Bob says with a laugh and a remembrance, and a bit of a dewy-eyed look). They started the old mill back up. Bob's Red Mill was born.
*****
The actual process of converting grain into flour or meal is fairly involved, even for a "stone age" company like Bob's.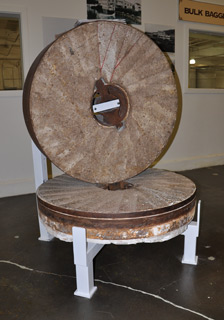 Old millstones
You have to obtain stones, that Bob now gets from that company in Denmark, which manufactures them using raw stones from the quarry at La Ferté-sous-Jouarre, 40 miles east of Paris. It has been mining stone for mills for well over 100 years. The stones then have to be mounted in mill machines (no longer driven by water, of course), just microns apart. "If the stones ever touched, you'd know it immediately," says Bob. "You'd smell it and you'd hear it." The grain is cleaned, fed through the millstones whole (germ and bran included), and the resulting flours are collected, tested, bagged and shipped.
The difference between stone grinding and the metal roller process at the big mills is not just speed — Bob's mills are able to produce 500 to 700 pounds an hour, perhaps one-tenth of an industrial mill's output — but heat. Bob's flour comes out at essentially the same room temperature at which the grains went in. But the big mills with their steel rollers generate an enormous amount of heat, which oxidizes the oils in the germ, causing them to spoil and lose nutrients. The texture and flavor of stone-ground grains is also distinctive and, to many people, superior. The industrial mills also generally strip off the germ and the bran, along with all their nutrients, in an effort to create the white flour that most Americans are now accustomed to.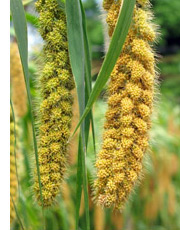 Millet
But the first step in the whole process is just obtaining the grain, and that can be harder than it seems. Wheat and corn are abundant in the US, but other grains are not. Millet, for example, is very hard to find in this country, but it happens to be the second most popular grain in China. Flax has long been an important crop in Egypt, parts of Europe and the Orient, but until recently it was not grown by many farmers in the US.
Or consider the Ethiopian grain teff.
"For a long time, people who wanted teff had to go to Ethiopia to get it," notes Bob. But the Ethiopian government was trying to discourage the export of its grains, and that made it hard for Bob's Red Mill to get. "There was a couple from England, Wayne and Elizabeth, who came to Utah to farm. And they said, 'Why don't we grow it?' They came to us and wanted to know if we could mill it, or how we could help them. And so we began grinding teff for them."
In fact, the buyers from Bob's Red Mill have become experts on grains. They travel the world, enter into many exclusive relationships with farmers, and have become big proponents of the so-called "ancient grains" like quinoa, spelt, amaranth and kamut.
"I sure hope that we had something to do with this [revival of ancient grains], because we've been so fascinated with grains that it just became a part of our life," says Bob. "By contacting farmers and trying to get them on board, why, a little here and a little there, a few phone calls, a pallet of product and then half a truckload of product.... I really believe in grains. Actually, according to the Bible, grains were supposed to be the very first food that people were to eat. So they come with a really good recommendation."
Bob Moore and his company have also been on the forefront of the gluten-free movement that has exploded on the scene in the last few years.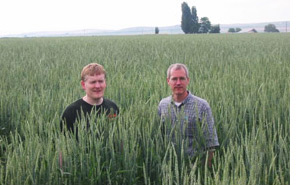 Spelt field
"I didn't even know what gluten intolerance was at first. We have a wonderful organization in Seattle called the GIG, the Gluten Intolerance Group, very concerned people who were trying to figure out what all these health issues are about. They had found that when they ate wheat, rye, barley, spelt, or different things that are gluten-based, their bodies didn't work right. And eventually doctors and research people came to realize there was a problem."
The GIG approached him around 1980, and Bob decided to help. When using gluten-free grains, you must come up with a substitute to help the breads or muffins rise. One such substance is xanthan gum, a natural rising agent grown in yeast that was very expensive. Bob's Red Mill began to package xanthan gum and sell it directly to the members of the GIG in small packages. Today, it is one of their more popular products. And gluten-free grains have become so important that Bob's Red Mill is now one of the nation's leading producers and most-respected experts. They segregate all incoming gluten-free grains, test every batch, and have a dedicated gluten-free production facility that runs 24 hours a day. Sales of gluten-free products are up 60% over last year.
*****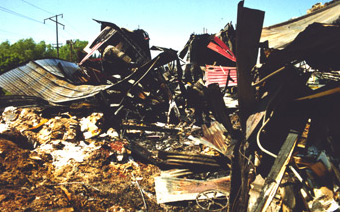 The going has not always been easy for Bob's Red Mill. In the early days, there was too much work to be done and not enough people to do it. Bob sharpened his pencil to keep the finances in line, and put on goggles to sharpen the millstones. Charlee kept the books in the office and stocked the shelves in the store. In 1988, the mill was burned to the ground by an arsonist — a devastating moment that left Bob and Charlee, at the age of 60, wondering whether they should just call it a career. But by then, their fate was etched in stone. They rebuilt the business, in a beautiful new facility that covers more than seven acres under one roof.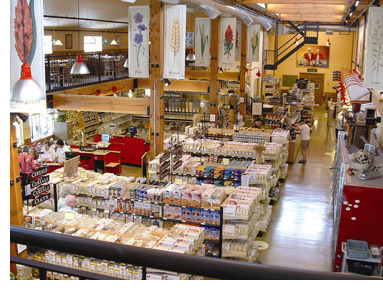 And now? Now the business runs about as smoothly and efficiently as those Denmark millstones. Bob's Red Mill manufactures hundreds of different products — not just flours and meals, but cereals, nuts, dried fruits and many other wholesome, natural foods. The brand name is known and revered by foodies and health food aficionados all around the world. In fact, last year Bob's Red Mill's steel cut oats won the "Golden Spurtle award" in Scotland for making the best oatmeal in the world. Bob treats that award as if it were another grandchild.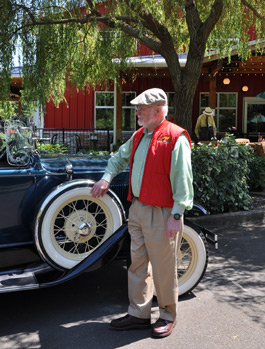 Bob with his Model A
Bob still comes to work every day, wearing his trademark red vest. He walks the plant floor a couple of times, and dives into his work. On some of the nice summer days, when Portland can deceive you into thinking that it is not in the Pacific Northwest, he drives his 1927 open-air Model A Ford to the nearby Bob's Red Mill retail store, honks the ah-OO-ga horn to announce his arrival, and hands out wooden nickel coupons to the kids. He sits down at the piano on the second floor to knock out an old classic or a ragtime tune (he has two other pianos in the office). "I enjoy my life like no one ever enjoys a life," he says. This year, on Bob Moore's 81st birthday, he even signed the paperwork that will transfer ownership of Bob's Red Mill to its 209 employees.
Bob looks around his office and takes it all in. Then he lets out another laugh of amazement, and everyone in the room laughs, too.
"We're making a living at it.... I don't know what to say! People are buying it, it's good food, it's the simpler way, and I just love it.... Amazing. It's an amazing story."